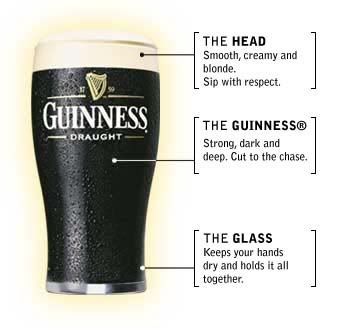 image by sodahead.com
Today is a day that I wish I were Irish....cos seriously...there is going to be some insane partying going on and I would feel much better about it if I were actually irish....
some irish jokes..
*A Englishman, a Scotsman, and an Irishman walk into a pub. They each buy a pint of Guiness beer.
Just as they were about to enjoy their creamy beverage three flies landed in each of their pints, and were stuck in the thick head.
The Englishman pushed his beer away from him in disgust.
The Scotsman fished the offending fly out of his beer and continued drinking it as if nothing had happened.
The Irishman too, picked the fly out of his drink, held it out over the beer and then started yelling, "SPIT IT OUT, SPIT IT OUT, YOU BASTARD!!*
*What's the difference between an Irish wedding and an Irish wake?
One less drunk.*
*O'Connell was staggering home with a pint of booze in his back pocket when he slipped and fell heavily. Struggling to his feet, he felt something wet running down his leg. "Please, God," he implored, "let it be blood".*
*An Englishman, an Irishman, and a Scotsman walk into a bar.
The bartender turns to them, takes one look, and says "What is this – some kind of a joke?" *